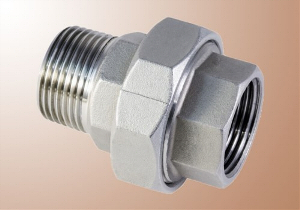 Forged Fittings are used in a piping system to change direction or function of media, which is mechanically joined to the system by a socket weld or threaded connection completely. These connections can make a complete joint actually and minimizing leak potential. This connections can provides good margins of safety, especially under conditions of high pressures.
ZAFFERTEC S.L. can supply wide range of Forged fittings in all sizes and materials. Our Fittings are producing in our equipped workshops in Italy. Our product lines in fitting processing are working with the highest standards in quality and reliability under strict quality control system.
Elbows, Tees, Crosses, Coupling, Half Coupling, Caps, Plugs, Nipples, Unions, and also Branch Outlets, such as: Weldolet, Sockolet, Thredolet, Latrolet and etc. are including in this range.
Carbon Steel and Stainless Steel materials are in our scope of supply from our stocks or also under production line. These fittings conform to relevant material and dimensional standards according to relevant ANSI norms and can be supplied with high quality European raw materials. EN 10204/3.1 certificates are attached to all materials.
Sometimes Forged fittings should be produced under non-standard drawing or requirement, according to clients' inquiries. We are specialized on tailor made non-standard fittings that should be fixed to your piping system with high performance operation. Sometimes mechanical or chemical corrosion or high pressure of flow or extreme temperature can be important. In this case, our designs will be the best solution for reliable and safe operation.

Standards: ANSI B16.11, BS 3799
Materials:
Carbon Steel: ASTM A105, A105N
Alloy Steel: ASTM A182 F1, F5A, F9, F11, F22
Low Temperature: ASTM A350 LF2, LF3
High Pressure: ASTM A694 F52, F56,F60, F65

Stainless Steel: ASTM A182 F304, F304L, F316, F316L
Size: 1/4 to 4 for Socket weld and Threaded Fittings
Class: 2000, 3000, 6000 Lbs for Threaded Fittings
3000, 6000,9000 Lbs for Socket weld Fittings


Technical Specification:
Forged Socket and Threaded Fittings