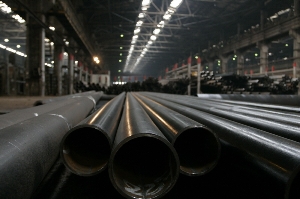 Seamless Carbon Steel and Stainless Steel Pipes
ZAFFERTEC S.L. offers a wide range of seamless carbon steel and stainless steel pipes in special grades.
In cooperation with the major European pipe manufacturers, ZAFFERTEC S.L. is potent to cover almost all of our clients' requirements, supplying from its large stocks of pipes in Italy and Spain.
We may also place orders with our suppliers for the most demanding of client installations such as pipes for high temperature, low temperature, high pressure or sour service environments for offshore or onshore applications.
All supplied products are manufactured according to international standards such as API, ASTM, ANSI, ISO and DIN pipe.

C.S. Standard: API 5L grade A, B, X42, X46, X52, X56, X60, X65, X70 + NACE, ASTM A53, A106, A200, A210, A213, A333, A335 (P5, P9, P11, P22, F11).
S.S. Standard: TP304, 304L, 304H, 309S, 310, 316, 316L, 317, 317L, 347.
Size Range: ½" to 24" for Carbon steel grades and ½" to 12" for Stainless steel grades.
Thickness: 1 to 60mm (for C.S. pipes-SCH 10 to XXS) and 1 to 15mm ( for S.S. Pipes-SCH 5S to 80S)
Ends: 2" below plain ends, 2" above beveled ends. Threaded ends are usually available.
Applications:
Pipelines for oil and gas




Natural Gas transmission




Oil and Gas Refineries




Petrochemical plants




Electric Power Plants




Construction and Piles




Food industries




Ship building




Automotive Industries

Technical Specification:
Pipe Dimensional and Schedule Table

According to ANSI B36.10 - B36.19
Seamless and Welded Pipes Dimensions Table