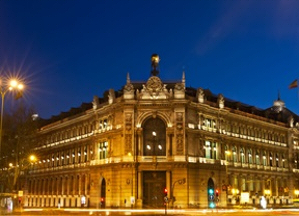 Availability of a reliable financial source or a secure finance solution is one of the crucial fundamentals to guarantee the procurement process and on-time project materials and equipment supply, successful execution and accomplishment of projects.
In order to satisfy the Clients' needs for financial services, ZAFFERTEC S.L. has defined and implemented the most facilitated models of Finance solutions to EPC projects in oil, gas and petrochemical projects, power plant projects, etc.

Meanwhile, as a leading European supplier of project materials in different fields of activity from the most famous manufacturers and engineering companies in Europe, ZAFFERTEC S.L. has developed successful financial links with the European private and governmental banks, financial institutes and insurance companies to offer the best solutions to EPC+F projects.
With our finance services, there will be no need to worry about the projects budgets and financial requirements and the Clients can count on ZAFFERTEC S.L. Finance Solutions to make the benefit of our advisory consultation.
Among the several models for Finance services, ZAFFERTEC S.L. offers the following Finance Solutions generally as the most feasible models to satisfy its Clients' financial needs:

A) Short-term Financing as Deferred Payment L/C (Usance L/C)




B) Long-term Project Financing Facilities



ZAFFERTEC S.L. has always tried to provide its Clients with the best and the most realistic access to facilities and services so that they could do their order placements and material purchases more comfortably and securely.
In fact, most of ZAFFERTEC S.L. Clients encounter serious problems with the budgets and financial funding in execution of their projects and/or purchasing the required projects materials and equipment. Therefore, they need to be financially supported through our finance solutions and deferred payment facilities.
Accordingly, ZAFFERTEC S.L. warmly welcomes your queries to bring up your project financial concerns and negotiate with its finance partners and banks in Europe to find the best solution to your budget insufficiency and financial requirments.