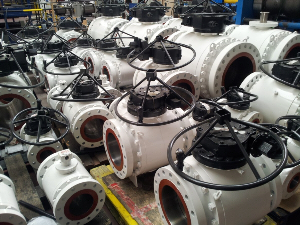 After a long time of worldwide business, ZAFFERTEC S.L. is now one of the leading suppliers of several types of ball valves with applications in Oil, Gas and Petrochemical projects.
ZAFFERTEC S.L. offer the highest quality ball valves produced by the known manufacturers in Europe and certified according to the latest related standards.
The following sizes and materials of ball valves are available to be supplied by ZAFFERTEC S.L.:

Sizes:
Size ½" to 72" for ANSI Class 150 to 600
Size ½" to 40" for ANSI Class 900
Size ½" to 36" for ANSI Class 1500
Size ½" to 24" for ANSI Class 2500
Size ½" to 18" for API Class 2000 to 10000
Size ½" to 4" for API Class 15000

Standards:
Design: ANSI B16.34, API-6D, API-608, BS5351
Face to Face: ANSI B16.10
Flanged Ends: ANSI B16.5
Butt weld Ends: ANSI B16.25
Threading Ends: NPT type ANSI B1.20.1
Socket Welding Ends: ANSI B16.11
Test: API-598, API-6D

Materials:
Carbon Steel ASTM A105, A216WCB, WCA, WCC, A350LF2 & etc.
Carbon Steel for low temperature services ASTM A352 LCB, LCC.
Alloy Steel for high temperature services ASTM A217 WC6, WC9, C5, C12, C12A
Alloy Steel for low temperature services ASTM A352 grades LC1, LC2, LC3, LC4, LC9 and etc.
Stainless Steel Cast body such as ASTM A351 grades CF3, CF8, CF3M, CF8M, CF8C, CN7M and etc.
Stainless Steel Forged body or trim ASTM A182 grades F5, F6a, F11, F22, F44, F51, F53, F55, F304, F304L,
F316, F316L, F316Ti, F320, F321, F347 & etc.
Brass and Bronze alloys
PTFE, Glass PTFE, Graphite, Nylon, Viton for Seats and Seals

Specifications:
Forging

Casting




Welded Body




Side Entry




Top Entry




Soft or Metal Seat




Full or Reduce Bore

Floating type

Trun-on Mounted type




Cryogenic service




Manual Gear




Actuated valves (Electric / Pneumatic / Hydraulic types)




Underground application

Corrosion and Abrasion Resistant




Open/close position indicator


Locking Device




Anti-blow out stem




Antistatic Device




Fire Protection Structure




Anti-Blowout Protective Structure




Double Block and Bleed (DBB) type